The Central Florida tornado swarm was the worst outbreak of Florida ever with $4 Billion Dollars in Damage and 102 are dead.
The F5 that tore through Ocoee was the costliest in Florida History.
1984 Central Florida Tornado Swarm

Type:
Unknown
Active:
May 5,1984
Duration of tornado outbreak1:
14 hours , 23 Minutes
Maximum rated tornado2:
F5 tornado
Highest winds
Unknown
Tornadoes confirmed:
98
Damage:
$4 Billion
Injuries:
Unknown
Fatalities:
102
Areas affected:
Florida

1Time from first tornado to last tornado
2Most severe tornado damage; see Fujita scale
Confirmed Tornadoes
Confirmed
Total
Confirmed
F0
Confirmed
F1
Confirmed
F2
Confirmed
F3
Confirmed
F4
Confirmed
F5
98
33
40
15
7
1
1
Notable Tornadoes
Ocoee FL F5 Tornado
The Ocoee F5 Tornado was the deadliest and costliest with 77 dead and $3 Billion dollars in damage.
At 8:45 PM a Tornado Touched down near Paradise Heights and Wreaked a High School as an F2. Heading For Ocoee a tornado warning had been issued for that area. It came as an F5 at 8:57PM and killed 65 people in that area and 3,000 are injured. The storm moved to Gotha as an F4 and Killed 12 more people and injured 400 more before heading to Turkey Lake and Dissipating.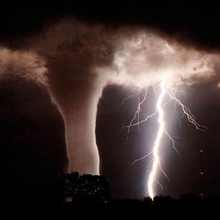 Pine Hills F4 Tornado
Shortly after the Ocoee F5 Died out a new tornado formed near Lockhart at 9:15 PM. It grew into a wedge by 9:30PM. At 9:36 PM it struck a High School killing 20 and injuring 62. It dissipated near College Park. The storm caused $354M In damage.
Oak Ridge F2
At 5:56PM a tornado Touched down in Oak Ridge. It was moving at 25 Miles an hour. It struck an elementary and middle school killing 1 person and injuring 15. At 6:09 PM it Struck a trailer park near US 441 destroying mobile homes and killed 4 people with 45 injured people before dissipating at a lake.
Meadow Woods F1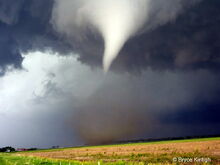 At 2:56 PM a tornado was spotted Near Gatorland. It was moving at 55 MPH. At 3:02 PM It crossed the Turnpike killing 15 people when a van was thrown off the road. At 3:14 PM It struck Meadow Woods destroying 29 homes before vanishing in heavy rain.
Community content is available under
CC-BY-SA
unless otherwise noted.