Note: I'm still working on this
'The 2016 Newark-Frazeysburg tornado was a extremely powerful tornado that caused massive destruction in the town of Newark, Ohio on May 16, 2016.
An unusually powerful low pressure system formed in the gulf of Alaska, moving into the mainland the system strengthened by the time it reached the great lakes. Along with high amounts of moisture and instability a large violent tornado outbreak occurred. Winds in the tornado were measured around 235 mph.
2016 Newark-Frazeysburg tornado
Tornado

The tornado before it hit the city of Newark.

---

Date
May 16, 2016
Times
3:23- 4:17 PM
Touchdown location
West of Newark, Ohio
Injuries
173
Fatalities
42
Damage
$1.2 billion
Areas affected
West of Newark to the northeast of Frazeysburg
Part of the
2016
Both of the cities of Newark and Frazeysburg, Ohio were mostly destroyed. Around 200 houses were destroyed in the city of Newark alone, with at least 50 of those suffering EF5 damage.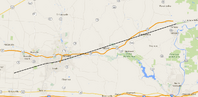 Aftermath
Because of the destruction caused by the tornado, fellow states provided aid in cleanup. The president visited the damage scene and called it, "Pure destruction like we have never seen before". Many communities were cut off from help because of the amount of debris and trees down on the ground. One house even had part of it's slab be completely removed. Newark and the town of Marne suffered the worst most of the EF5 damage, while Frazeysburg mostly had EF3 damage.
Community content is available under
CC-BY-SA
unless otherwise noted.