2016 Springfield, Tennessee tornado
EF4 tornado


The Springfield, Tennessee Tornado at mid-end EF4 strength.

---

Date
Feb, 12, 2016
Times
13:04-14:12
Touchdown location
1:04 PM EDT
Highest winds

194 MPH (312 KM/H)

Injuries
1,102
Fatalities
61
Damage
$1.7 Billion (2016 USD)
Areas affected
Areas in and around Springfield, Tennessee
Part of the
Tornadoes of 2016 (Crowe2003)


Tornado outbreak sequence of February 9-15, 2016
The 2016 Springfield, Tennessee tornado was a long-tracked, violent tornado that occurred on February 12, 2016. Overall, 61 people died and 1,102 others were injured. The tornado is considered one of the worst to ever strike the state. Killing 61, it is also one of the deadliest to have ever hit the state. A state of emergency was declared for Tennesee that same afternoon.
Meteorological synopsis
A very unusual setup for February was present, with an area of low pressure over northern Kentucky. A moderate risk was issued on Feb, 11, with a day 2 moderate risk also being issued. Cape values were well over the minimum needed for tornadic activity, with them being 5,420J/KG in Northern Tennessee and Southern Kentucky. Other ingredients were excessively high as well. As a result, a high risk was issued, including a 30% SIG tornado probability. Several tornadoes touched down including the EF4 Springfield tornado. This was the most damaging tornado of the outbreak, causing 1.7 Billion (2016 USD) in damages.
Tornado Summary
The tornado tracked 90 miles across Tennessee and Kentucky. Damage initially done was minor tree damage around the Cumberland River. EF2 damage to houses was confirmed in Chapmansboro and a house was levelled in the north side of town, rated high-end EF3. The tornado grew up to a mile wide and a Doppler on Wheels (DOW) measured winds of 265 MPH while over open fields in northern Cheatham County, Tennessee, which would be enough to produce EF5 damage, although none was found. As the tornado entered Robertson County, multiple mobile homes were completely swept away and ground scouring occurred, likely was at EF5 strength but rated EF2 due to them being mobile homes and not Well built homes. The first instance of EF4 damage was when a brick house was completely levelled in Cooperville. No one died but 4 people were injured, some critically. EF3 damage was noted to other houses in the Cooperville area. The tornado then regained strength and, yet again was capable of EF5 damage but remained over open country. As it entered Springfield houses were levelled and ground scouring of 3 inches occurred, One home was swept away so violently that part of its foundation cracked, however, the structures that were swept away by this tornado was either improperly anchored, lacked interior walls, or were surrounded by contextual damage not consistent with winds exceeding 200 mph (320 km/h), and as a result an EF5 rating could not be applied. Therefore, the official rating was high-end EF4 with winds of 200 MPH. The tornado crossed the state line and, once again, was capable of EF5 damage but remained over open fields. The tornado significantly weekend in Simpson County and dissipated Shortly after moving over Bowling Green.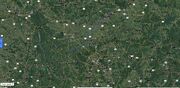 Aftermath
After the tornado lifted, it had left behind a trail of destruction through Dickinson, Cheatham, and Robertson Counties in Tennessee. And Simpson and Warren Counties in Kentucky. A total of 61 people died from the tornado, one in Dickinson County, fifty-eight in Robertson County, one in Simpson County and one in Warren County. A disaster declaration was issued for Northern Tennessee in the wake of the tornado. An additional 1,102 people were injured.
See Also
Tornado outbreak of March 2-3, 2012 - A very large outbreak that produced similarly intense tornadoes in the same areas in 2012.
Tornado outbreak of March 2-3, 2020 - Another outbreak that Produced an EF4 tornado in nearby Cookeville, as well as an EF3 in Nashville.
1998 Nashville tornado outbreak - Produced a large F5 tornado near the same area.