2017 Winnipeg tornado
EF5 tornado (Environment Canada)


The tornado at peak intensity over the northern suburbs of Winnipeg

---

Date
July 15, 2017
Times
9:28AM-11:22AM
Touchdown location
Just east of Winnipeg, Canada
Injuries
218
Fatalities
4
Damage
$985M (2017 Canadian $)
Areas affected
Winnipeg, Manitoba; Wasagamack, Manitoba and areas in-between
Part of the
2017 Tornado Season
the
2017 Winnipeg tornado
was a part of a
much larger outbreak
...the tornado currently holds the record for the longest-tracked and longest-lived tornado in Canadian history, being on the ground for 79 miles and 114 minutes with possible EF5 damage documented in Northern Winnipeg, this tornado is also the second strongest Canadian tornado on record with peak winds just below the Elie F5's winds...The tornado was officially upgraded to a EF5 by Environment Canada on April 17, 2019.
Meteorological Synopsis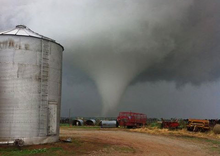 on July 14, a mesoscale convective complex formed over the central US...the system produced several strong tornadoes over the northern US that day...on July 15 the MCC had moved into southern Canada with the probability of a significant outbreak within the next few hours...tornadoes were already reported that morning, the MCC contained 11 tornadic cells moving NE, one over southern Winnipeg which would produce this tornado...at 9:25AM a few weak tornadoes touched down over Southern Winnipeg resulting in a tornado warning for the area "This storm has had a past of producing weak tornadoes over southern Winnipeg, another weak tornado may touched down at any second" at 9:28AM the first tornado in 3 minutes by this cell had touched down over a group of trees in Winnipeg...and this would be the EF4 later on, the tornado moved NE while causing EF1 damage to homes, at 9:42AM the tornado hit EF2 intensity...EF3 damage started occurring over North Central Winnipeg at 9:50AM...the tornado reached EF4 intensity just as it left Winnipeg, the tornado also showed it's first signs of EF5 intensity around 10:03AM, though no EF5 rating would be made, the tornado continued to track northeast as a low-end EF4 until it reached Wasagamack, around there it lifted after breaking 2 Canadian tornado records...the longest-lived tornado in Canada's history and the long-tracked tornado in Canada's history.
Rating disputes
This tornado was rated EF5 for 3 days, but was then downgraded...The tornado was upgraded to EF5 on April 17, 2019 following further assessment.
Community content is available under
CC-BY-SA
unless otherwise noted.