Confirmed
Total
Confirmed
EF0
Confirmed
EF1
Confirmed
EF2
Confirmed
EF3
Confirmed
EF4
Confirmed
EF5
Confirmed
EF6
Confirmed
EF7
23
8
5
3
2
1
3
0
1
This deadly outbreak of 23 tornadoes happened on Christmas Day, 2018. The maximum rated tornado was a
2018 Floirdia Outbrake

The EF7 tornado
Type:
Unknown
Active:
Dec 25
Duration of tornado outbreak1:
2 Hours, 43 Minutes
Maximum rated tornado2:
EF7 tornado
Highest winds
Unknown
Tornadoes confirmed:
23
Damage:
$300billion (2018 USD)
Injuries:
Unknown
Fatalities:
200,000
Areas affected:
Florida

1Time from first tornado to last tornado
2Most severe tornado damage; see wikipedia:Enhanced Fujita scale
EF7 tornado that tore through Orlando, FL at 2:38P.M. It touched down near Lake City FL as an EF3. It struck Gainsville, Eustis, and Apopka FL as an 300MPH EF5. The 3 mile wide twister struck Orlando at 2:59 as an EF7 with winds up to 450MPH. Entire skyscrapers are leveled and massive buildings wiped off the face of the earth. It finally dissipates near Miami at at 3:12. In all, 200,000 people had been killed and over 500,000 injured. It caused a staggering 300billion dollars in damage. It leaves Florida, the sunny state, in ruins. Other tornadoes happened too. 3 of which where triplet EF5s that struck Tampa Bay. In total, 600,000 people where killed and over a million injured. The outbreak caused 900billion dollars in damaged and was one of the worst tornado outbreaks in history. It left many people across the U.S.A. in shock. People struggle to rebuild what was bustling cities.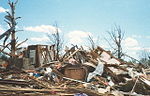 Community content is available under
CC-BY-SA
unless otherwise noted.