Confirmed
Total
Confirmed
EF0
Confirmed
EF1
Confirmed
EF2
Confirmed
EF3
Confirmed
EF4
Confirmed
EF5
Confirmed
EF6
Confirmed
EF7
Confirmed
EF8
Confirmed
EF9
1
0
0
0
0
0
0
0
0
0
1
On May 4, 2019, a tornado touched down near Albany, NY at 11:45A.M. as an EF2. It crossed the Hudson River and struck Kingston, Poughkeepsie, and Yonkers as an EF5 with 290MPH winds and width of 1.5 miles. It crossed the Hudson River again as it rapidly intensified and amazingly grew to 4 miles wide and had winds up to 550MPH as it slammed into NYC as an EF9. Multiple 30 story buildings floated in the air as citizens ran for cover. In one short minute, most of NYC was gone. Startled people emerge from their hiding spots and see the destruction. The tornado continued to travel 35 Miles out to water before finally dying out. It left 5million people dead and millions more injured. It caused 800billion dollars in damage throughout NY and 1billion of it was caused by a luxury cruise ship that was sunken out to sea. It was the deadliest, costliest, and strongest single tornado in recorded history.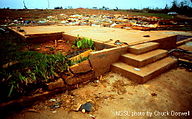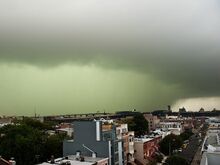 Community content is available under
CC-BY-SA
unless otherwise noted.