2025 Harrisburg-Reading-Philadelphia, Pennsylvania Tornado
EF5 tornado


The tornado as it approached York as an EF4.

---

Date
May 20, 2025
Times
1437-1859
Touchdown location
2:37 PM EST
Highest winds

337 mph (seventh highest recorded or estimated wind speed ever)

Injuries
125,000+
Fatalities
11,002
Damage
$5.3 billion (2025 USD)
Areas affected
Dauphin, Cumberland, York, Lebanon, Lancaster, Berks, Philadelphia, Montgomery, and Monroe counties, Pennsylvania
Part of the
Tornadoes of 2025 (Hitman)
The 2025 Harrisburg-Reading-Philadelphia Tornado was a large, catastrophic, and violent tornado that struck the areas of Philadelphia, Reading and Harrisburg, PA on Tuesday, May 20, 2025. The tornado touched down at 2:37 PM EST near Reading. It then intensified into an EF3.
The tornado then traveled into the suburbs of Harrisburg, Pennsylvania's capital. It left catastrophic damage to Camp Hill, Lancaster, York, Carlisle, and Mechanicsburg. It then traveled near Philadelphia. The tornado then hit suburbs like Devon, Penn Wynne, and Chesterbrook. Then, the tornado hit Allentown. The behemoth then badly damaged Pocono Raceway. The tornado reached peak intensity near the Pocono mountains then.
In all, 11,002 people died, 125,000+ more were injured, and $5.3 billion (2025 USD) in damages was done.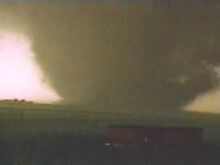 Hitman's Notable Tornadoes 1
2012 Los Angeles, California Tornado • 2012 Compton, California Tornado • 2012 Inglewood, California Tornado • 2016 Sherman, Texas Tornado • 2017 Mount Dora, Florida Tornado • 2017 Clermont, Florida Tornado • 2017 Bradenton, Florida Tornado • 2017 Broken Arrow, Oklahoma Tornado • 2018 Seymour, Texas Tornado • 2018 Parkersburg, Iowa Tornado • 2018 Washington, Oklahoma Tornado • 2018 Loyal Valley, Texas Tornado • 2018 Tescott, Kansas Tornado • 2018 Amber, Oklahoma Tornado • 2018 Chickasha, Oklahoma Tornado • 2018 Piedmont-El Reno, Oklahoma Tornado • 2018 New Albany, Ohio Tornado • 2018 Tulsa, Oklahoma Tornado • 2018 Phil Campbell-Hackleburg, Alabama Tornado • 2018 Clermont-Groveland-Four Corners, Florida Tornado • 2018 Littleton-Columbine, Colorado Tornado • 2018 Jarrell, Texas Tornado • 2018 Houston-Pasadena, Texas Tornado • 2018 Cleveland County, Oklahoma Tornado • 2018 Cleveland County-Grady, County Oklahoma Tornado • 2018 Oklahoma City, Oklahoma Tornado • 2018 Anadarko, Oklahoma Tornado • 2018 Joplin-Alba, Missouri Tornado • 2018 Eustace-Canton, Texas Tornado • 2018 Olathe, Kansas Tornado • 2018 Gatlinburg, Tennessee Tornado • 2018 Hot Springs, South Dakota Tornado • 2018 Red Rock, Oklahoma Tornado • 2018 Vilonia, Arkansas Tornado • 2018 Smithville, Mississippi Tornado • 2018 Glazier, Texas Tornado • 2018 Woodward, Oklahoma Tornado • 2018 Antlers, Oklahoma Tornado • 2018 Lake Wilson, Minnesota Tornado • 2018 Chandler, Minnesota Tornado • 2018 Kiro, Kansas Tornado • 2018 Monticello, Indiana Tornado • 2018 New Cordell, Oklahoma Tornado • 2018 Oleta, Oklahoma Tornado • 2018 Tushka, Oklahoma Tornado • 2018 Broken Arrow, Oklahoma Tornado • 2018 Keyes, Oklahoma Tornado • 2018 Pilger, Nebraska Tornado • 2018 Attica, Indiana Tornado • 2018 Delaware, Ohio Tornado • 2018 Yonkers, New York Tornado • 2018 Dorset, Vermont Tornado • 2018 Haines City, Florida Tornado • 2018 Caddo County-Grady County, Oklahoma Tornado • 2018 Prague, Oklahoma Tornado • 2018 Bixby, Oklahoma Tornado • 2018 Tulsa County, Oklahoma Tornado • 2018 Webster, South Dakota Tornado • 2018 Binger-Stillwater, Oklahoma Tornado • 2018 Wilco-Dimmitt, Texas Tornado • 2018 Turkey, Texas Tornado • 2019 El Dorado, Kansas Tornado • 2019 Prescott, Arkansas tornado • 2019 Chesterfield, Missouri Tornado • 2019 Manchester, Missouri Tornado • 2019 St. Louis County, Missouri Tornado • 2019 Harper, Kansas Tornado • 2019 Attica-Harper, Kansas Tornado • 2019 Sand Springs, Oklahoma Tornado • 2019 Spiro, Oklahoma Tornado • 2019 Vinita, Oklahoma Tornado • 2019 Salt Lake City, Utah Tornado • 2019 Sterling, Kansas Tornado • 2019 Vian, Oklahoma Tornado • 2019 Parshall, North Dakota Tornado • 2019 Bridge Creek-Moore, Oklahoma Tornado • 2020 Phil Campbell, Alabama Tornado • 2020 Ider, Alabama Tornado • 2020 Philadelphia, Mississippi Tornado • 2020 Double Springs, Alabama Tornado • 2020 Athens, Mississippi Tornado • 2020 Vernon, Alabama Tornado • 2020 Steens, Mississippi Tornado • 2020 Capitol, Montana Tornado • 2020 Washington D.C. Tornado • 2021 Piedmont - Guthrie, Oklahoma Tornado • 2021 Piedmont, Oklahoma tornado • 2021 Gladstone, New Mexico Tornado •

2023 Dallas, Texas Tornado

•

2023 Memphis, Tennessee Tornado

•

2023 Jefferson County, Arkansas Tornado

•

2023 Pulaski County, Arkansas Tornado

•

2023 Arkansas County, Arkansas Tornado

•

2023 Desha County, Arkansas Tornado

2023 Phillips County, Arkansas Tornado

• 2023 Coahoma County, Mississippi Tornado •

2023 Quitman County, Mississippi Tornado

•

2023 Pontotoc County, Mississippi Tornado

•

2023 Union County, Mississippi Tornado

•

2023 Noxubee County, Mississippi

•

2020 Macon, Mississippi Tornado

•

2023 Delhi, Louisiana Tornado

•

2023 LaSalle Parish, Louisiana Tornado

•

2023 Madison Parish, Louisiana Tornado

•

2023 Amite County, Mississippi Tornado

•

2023 Pike County, Mississippi Tornado

•

2023 Liberty, Mississippi Tornado

•

2023 Gloster, Mississippi Tornado

•

2023 Pearl River County, Mississippi Tornado

• 2023 Clay County, Mississippi Tornado •

2023 Warren County, Mississippi Tornado

•

2023 Madison County, Mississippi Tornado

•

2023 Rankin County, Mississippi Tornado

•

2023 Leflore County, Mississippi Tornado

•

2023 Sunflower County, Mississippi Tornado

•

2023 Grenada County, Mississippi Tornado

•

2023 Neshoba County, Mississippi Tornado

•

2023 Lauderdale County, Mississippi Tornado

•

2023 Marion County, Alabama Tornado

•

2023 Winston County, Alabama Tornado

•

2023 Itawamba County, Mississippi Tornado

•

2023 Tishomingo County, Mississippi Tornado

•

2023 Rockdale County, Georgia Tornado

•

2023 Walton County, Georgia Tornado

•

2023 Habersham County, Georgia Tornado

• 2023 Banks County, Georgia Tornado • 2023 Ackworth, Georgia Tornado •

2023 Cumming, Georgia Tornado

•

2023 Edgefield, South Carolina Tornado

•

2023 Newton County, Georgia Tornado

•

2023 Taliaferro County, Georgia Tornado

•

2023 Hancock County, Georgia Tornado

•

2023 Glasscock County, Georgia Tornado

•

2023 Brantley County, Georgia Tornado

•

2023 Pierce County, Georgia Tornado

• 2023 Bacon County, Georgia Tornado •

2023 Jeff Davis County, Georgia Tornado

•

2023 Long County, Georgia Tornado

•

2023 Liberty County, Georgia Tornado

•

2023 Orangeburg County, South Carolina Tornado

• 2023 Chandler, Minnesota Tornado • 2025 Harrisburg-Reading-Philadelphia, Pennsylvania Tornado • 2026 Eastport, Maine Tornado • 2027 Tuscaloosa, Alabama Tornado • 2028 Wray, Colorado tornado • 2028 Lone Grove, Oklahoma Tornado • 2028 Mulhall, Oklahoma Tornado
Hitman's Notable EF5 Tornadoes 1
2017 Mount Dora, Florida Tornado • 2017 Broken Arrow, Oklahoma Tornado • 2018 Washington, Oklahoma Tornado • 2018 Tescott, Kansas Tornado • 2018 Clermont-Groveland-Four Corners, Florida Tornado • 2018 Jarrell, Texas Tornado • 2018 Houston-Pasadena, Texas Tornado • 2018 Cleveland County, Oklahoma Tornado • 2018 Cleveland County-Grady, County Oklahoma Tornado • 2018 Oklahoma City, Oklahoma Tornado • 2018 Red Rock, Oklahoma Tornado • 2018 Vilonia, Arkansas Tornado • 2018 Smithville, Mississippi Tornado • 2018 Woodward, Oklahoma Tornado • 2018 New Cordell, Oklahoma Tornado • 2018 Oleta, Oklahoma Tornado • 2018 Elie, Manitoba Tornado • 2018 Tushka, Oklahoma Tornado • 2018 Broken Arrow, Oklahoma Tornado • 2018 Keyes, Oklahoma Tornado • 2018 Prague, Oklahoma Tornado • 2018 Bixby, Oklahoma Tornado • 2018 Webster, South Dakota Tornado • 2019 Sand Springs, Oklahoma Tornado • 2019 Spiro, Oklahoma Tornado • 2019 Vinita, Oklahoma Tornado • 2019 Vian, Oklahoma Tornado • 2019 Parshall, North Dakota Tornado • 2019 Bridge Creek-Moore, Oklahoma Tornado • 2020 Rocky Ford, Colorado Tornado • 2020 Dearborn, Michigan Tornado • 2020 Detroit, Michigan Tornado • 2020 Cincinnati, Ohio Tornado • 2020 Columbus, Ohio Tornado • 2020 Akron, Ohio Tornado • 2020 Cleveland, Ohio Tornado • 2020 Hallam, Nebraska Tornado • 2021 Piedmont - Guthrie, Oklahoma Tornado •

2023 Memphis, Tennessee Tornado

•

2023 Jefferson County, Arkansas Tornado

•

2023 Pulaski County, Arkansas Tornado

•

2023 Arkansas County, Arkansas Tornado

•

2023 Desha County, Arkansas Tornado

2023 Phillips County, Arkansas Tornado

• 2023 Coahoma County, Mississippi Tornado •

2023 Quitman County, Mississippi Tornado

•

2023 Pontotoc County, Mississippi Tornado

•

2023 Union County, Mississippi Tornado

•

2023 LaSalle Parish, Louisiana Tornado

•

2023 Madison Parish, Louisiana Tornado

• 2023 Clay County, Mississippi Tornado •

2023 Warren County, Mississippi Tornado

•

2023 Madison County, Mississippi Tornado

•

2023 Rankin County, Mississippi Tornado

•

2023 Leflore County, Mississippi Tornado

•

2023 Sunflower County, Mississippi Tornado

•

2023 Grenada County, Mississippi Tornado

•

2023 Neshoba County, Mississippi Tornado

•

2023 Lauderdale County, Mississippi Tornado

•

2023 Marion County, Alabama Tornado

•

2023 Winston County, Alabama Tornado

•

2023 Itawamba County, Mississippi Tornado

•

2023 Tishomingo County, Mississippi Tornado

•

2023 Rockdale County, Georgia Tornado

•

2023 Walton County, Georgia Tornado

•

2023 Habersham County, Georgia Tornado

• 2023 Banks County, Georgia Tornado • 2023 Ackworth, Georgia Tornado •

2023 Cumming, Georgia Tornado

•

2023 Edgefield, South Carolina Tornado

•

2023 Newton County, Georgia Tornado

•

2023 Taliaferro County, Georgia Tornado

•

2023 Hancock County, Georgia Tornado

•

2023 Glasscock County, Georgia Tornado

•

2023 Brantley County, Georgia Tornado

•

2023 Pierce County, Georgia Tornado

• 2023 Bacon County, Georgia Tornado •

2023 Jeff Davis County, Georgia Tornado

•

2023 Long County, Georgia Tornado

•

2023 Liberty County, Georgia Tornado

•

2023 Orangeburg County, South Carolina Tornado

• 2023 Chandler, Minnesota Tornado • 2025 Harrisburg-Reading-Philadelphia, Pennsylvania Tornado • 2025 Waurika-Addington, Oklahoma Tornado • 2028 Wray, Colorado tornado • 2028 Lone Grove, Oklahoma Tornado • 2028 Wynnewood, Oklahoma Tornado • 2028 Mulhall, Oklahoma Tornado • 2265 Minneola- Clermont- Four Corners, Florida Tornado
All Hitman's EF5 Tornadoes
2016 Sherman, Texas Tornado • 2017 Mount Dora, Florida Tornado • 2017 Broken Arrow, Oklahoma Tornado • 2018 Washington, Oklahoma Tornado • 2018 Tescott, Kansas Tornado • 2018 Pennsboro, West Virginia Tornado • 2018 New Albany, Ohio Tornado • 2018 Moore, Oklahoma Tornado • 2018 Clermont-Groveland-Four Corners, Florida Tornado • 2018 Chapman, Kansas Tornado • 2018 Jarrell, Texas Tornado • 2018 Houston-Pasadena, Texas Tornado • 2018 Oklahoma City, Oklahoma Tornado • 2018 Joplin-Alba, Missouri Tornado • 2018 Andover, Kansas Tornado • 2018 Xenia, Ohio Tornado • 2018 Red Rock, Oklahoma Tornado • 2018 Denton, Texas Tornado • 2018 Vilonia, Arkansas Tornado • 2018 Hackleburg, Alabama Tornado • 2018 Ponca City, Oklahoma Tornado • 2018 Freeport, Kansas Tornado • 2018 Fort Rice, North Dakota Tornadoes • 2018 Woodward, Oklahoma Tornado • 2018 Kiowa, Oklahoma Tornado • 2018 Big Spring, Texas Tornado • 2018 Rocksprings, Texas Tornado • 2018 Oberlin, Kansas Tornado • 2018 Monticello, Indiana Tornado • 2018 New Cordell, Oklahoma Tornado • 2018 Oleta, Oklahoma Tornado • 2018 Attica, Kansas Tornado • 2018 Tushka, Oklahoma Tornado • 2018 Broken Arrow, Oklahoma Tornado • 2018 Keyes, Oklahoma Tornado • 2018 Prague, Oklahoma Tornado • 2019 Cotter, Arkansas Tornado • 2019 Silver Creek, Mississippi Tornado • 2019 Key West, Florida Tornado • 2019 Sand Springs, Oklahoma Tornado • 2019 Spiro, Oklahoma Tornado • 2019 Vinita, Oklahoma Tornado • 2019 Vian, Oklahoma Tornado • 2019 Sierra Vista, Arizona Tornado • 2019 Parshall, North Dakota Tornado • 2019 Bridge Creek-Moore, Oklahoma Tornado • 2020 Burkville-Montgomery, Alabama Tornado •

2020 Bullock County, Alabama

•

2020 Piedmont, Alabama Tornado

• 2020 Delta, Alabama Tornado • 2020 Cox, Florida Tornado •

2020 White, Georgia Tornado

• 2020 Plains, Georgia Tornado • 2020 Dexter, Georgia Tornado •

2020 Kannapolis, North Carolina Tornado

• 2020 York, Nebraska Tornado • 2020 Ralston, Nebraska Tornado • 2020 Rocky Ford, Colorado Tornado • 2020 Centennial, Colorado Tornado • 2020 Boulder, Colorado Tornado • 2020 Adams County, Colorado Tornado • 2020 Elbert County, Colorado Tornado • 2020 Lakewood, Colorado Tornado • 2020 Golden, Colorado Tornado • 2020 Denver, Colorado Tornado • 2020 Littleton, Colorado Tornado • 2020 Colorado Springs, Colorado Tornado • 2020 Pueblo, Colorado Tornado • 2020 Fort Collins, Colorado Tornado • 2020 Loveland, Colorado Tornado • 2020 Arapahoe County, Colorado Tornado • 2020 Jefferson County, Colorado Tornado • 2020 Oneonta, Alabama Tornado • 2020 Lexington, Mississippi Tornado • 2020 Stone Mountain, Georgia Tornado • 2020 Decatur, Georgia Tornado • 2020 Allendale, South Carolina Tornado • 2020 Worcester, Massachusetts Tornado • 2020 Boston, Massachusetts Tornado • 2020 Chicago, Illinois Tornado • 2020 Auburn-Enterprise-Dothan, Alabama Tornado • 2020 Scottsboro, Alabama Tornado • 2020 Phil Campbell, Alabama Tornado • 2020 Double Springs, Alabama Tornado • 2020 Macon County, Alabama Tornado • 2020 Ider, Alabama Tornado • 2020 Vernon, Alabama Tornado • 2020 Philadelphia, Mississippi Tornado • 2020 Muncie, Indiana Tornado • 2020 Blair, Oklahoma Tornado • 2020 Kingfisher County, Oklahoma Tornado • 2020 Richmond, Virginia Tornado • 2020 Charlottesville, Virginia Tornado • 2020 Petersburg, Virginia Tornado • 2020 Pittsburgh, Pennsylvania Tornado • 2020 Raleigh, North Carolina Tornado • 2020 Durham, North Carolina Tornado • 2020 Nashville, Tennessee Tornado • 2020 Memphis, Tennessee Tornado • 2020 Kansas City, Missouri Tornado • 2020 Lincoln, Nebraska Tornado • 2020 Lexington, Kentucky Tornado • 2020 St. Louis, Missouri-East St. Louis, Illinois Tornado • 2020 Des Moines, Iowa Tornado • 2020 Minneapolis, Minnesota Tornado • 2020 St. Paul, Minnesota Tornado • 2020 Milwaukee, Wisconsin Tornado • 2020 Naperville, Illinois Tornado • 2020 Indianapolis, Indiana Tornado • 2020 Gary, Indiana Tornado • 2020 Dearborn, Michigan Tornado • 2020 Detroit, Michigan Tornado • 2020 Cincinnati, Ohio Tornado • 2020 Akron, Ohio Tornado • 2020 Cleveland, Ohio Tornado • 2020 Rapid City, South Dakota Tornado • 2020 Sioux Falls, South Dakota Tornado • 2020 Brandenburg, Kentucky Tornado • 2020 Covington, Kentucky Tornado • 2020 Niles, Ohio Tornado • 2020 Lorain, Ohio Tornado • 2020 Midway, Indiana Tornado • 2020 Lebanon, Indiana Tornado • 2020 Griffin, Indiana Tornado • 2020 Depauw, Indiana Tornado • 2020 Palestine, Illinois Tornado • 2020 Alton, Illinois Tornado • 2020 Flint, Michigan Tornado • 2020 Jordan, Iowa Tornado • 2020 Austin, Minnesota Tornado • 2020 Lake Wilson, Minnesota Tornado • 2020 Fargo, North Dakota Tornado • 2020 Hallam, Nebraska Tornado • 2020 Grand Island, Nebraska Tornado • 2020 Joplin, Missouri Tornado • 2020 Snyder, Oklahoma Tornado • 2020 Goldsby, Oklahoma Tornado • 2020 Mangum, Oklahoma Tornado • 2020 Perry-Mulhall, Oklahoma Tornado • 2020 Greensburg, Kansas Tornado • 2020 Pittsburg, Kansas Tornado • 2020 Wichita, Kansas Tornado • 2020 Casper, Wyoming Tornado • 2020 Hinton, Oklahoma Tornado • 2020 Blanchard, Oklahoma Tornado • 2020 Reading, Kansas Tornado • 2020 Golden City, Missouri Tornado • 2020 La Grange, Missouri Tornado • 2020 Oologah, Oklahoma Tornado • 2020 Hugo, Oklahoma Tornado • 2020 Rozel, Kansas Tornado • 2020 Pampa, Texas Tornado • 2020 Noble, Oklahoma Tornado • 2020 Tulsa, Oklahoma Tornado • 2020 Allison, Texas Tornado • 2020 Bridge Creek, Oklahoma Tornado • 2020 Chickasha, Oklahoma Tornado • 2020 Butler, Oklahoma Tornado • 2020 Davis, Oklahoma Tornado • 2020 Amber, Oklahoma Tornado • 2020 Wichita Falls, Texas Tornado • 2020 Dodge City, Kansas Tornado • 2020 Sapulpa, Oklahoma Tornado • 2020 Liberal, Kansas Tornado • 2020 Silsbee, Texas Tornado • 2020 Omaha, Nebraska Tornado • 2020 Arapho-Custer City-Thomas, Oklahoma Tornado • 2020 Denton-Gainesville-Thackerville, Texas-Dibble-Blanchard-Mustang-Yukon-Kingfisher, Oklahoma Tornado • 2020 Eagle City, Oklahoma Tornado • 2020 Mountain View, Oklahoma Tornado • 2020 Elmer, Oklahoma Tornado • 2020 Camanche, Iowa Tornado • 2020 McPherson, Kansas Tornado • 2020 Shawnee, Oklahoma Tornado • 2020 Loyal, Oklahoma Tornado • 2020 Katie, Oklahoma Tornado • 2021 Anadarko, Oklahoma Tornado • 2021 Piedmont - Guthrie, Oklahoma Tornado • 2021 Ashley-Walcott, North Dakota Tornado • 2022 El Dorado, Kansas Tornado •

2023 Dallas, Texas Tornado

•

2023 Memphis, Tennessee Tornado

•

2023 Jefferson County, Arkansas Tornado

•

2023 Pulaski County, Arkansas Tornado

•

2023 Arkansas County, Arkansas Tornado

•

2023 Desha County, Arkansas Tornado

2023 Phillips County, Arkansas Tornado

• 2023 Coahoma County, Mississippi Tornado •

2023 Quitman County, Mississippi Tornado

•

2023 Pontotoc County, Mississippi Tornado

•

2023 Union County, Mississippi Tornado

•

2023 LaSalle Parish, Louisiana Tornado

•

2023 Madison Parish, Louisiana Tornado

• 2023 Clay County, Mississippi Tornado •

2023 Warren County, Mississippi Tornado

•

2023 Madison County, Mississippi Tornado

•

2023 Rankin County, Mississippi Tornado

•

2023 Leflore County, Mississippi Tornado

•

2023 Sunflower County, Mississippi Tornado

•

2023 Grenada County, Mississippi Tornado

•

2023 Neshoba County, Mississippi Tornado

•

2023 Lauderdale County, Mississippi Tornado

•

2023 Marion County, Alabama Tornado

•

2023 Winston County, Alabama Tornado

•

2023 Itawamba County, Mississippi Tornado

•

2023 Tishomingo County, Mississippi Tornado

•

2023 Rockdale County, Georgia Tornado

•

2023 Walton County, Georgia Tornado

•

2023 Habersham County, Georgia Tornado

• 2023 Banks County, Georgia Tornado • 2023 Ackworth, Georgia Tornado •

2023 Cumming, Georgia Tornado

•

2023 Edgefield, South Carolina Tornado

•

2023 Newton County, Georgia Tornado

•

2023 Taliaferro County, Georgia Tornado

•

2023 Hancock County, Georgia Tornado

•

2023 Glasscock County, Georgia Tornado

•

2023 Brantley County, Georgia Tornado

•

2023 Pierce County, Georgia Tornado

• 2023 Bacon County, Georgia Tornado •

2023 Jeff Davis County, Georgia Tornado

•

2023 Long County, Georgia Tornado

•

2023 Liberty County, Georgia Tornado

•

2023 Orangeburg County, South Carolina Tornado

• 2023 Chandler, Minnesota Tornado • 2025 Waurika-Addington, Oklahoma Tornado • 2025 Harrisburg-Reading-Philadelphia, Pennsylvania Tornado • 2027 Tuscaloosa, Alabama Tornado • 2028 Mulhall, Oklahoma Tornado • 2028 Wray, Colorado tornado • 2028 Lone Grove, Oklahoma Tornado • 2028 Wynnewood, Oklahoma Tornado • 2037 Elgin, Oklahoma Tornado • 2265 Minneola- Clermont- Four Corners, Florida Tornado
All of Hitman's Tornadoes

1926

1926 Glendale, Arizona Tornado • 1926 Tolleson-Scottsdale, Arizona Tornado • 1926 Gilbert-Mesa, Arizona Tornado

1999

2012

2012 Los Angeles, California Tornado • 2012 Compton, California Tornado • 2012 Inglewood, California Tornado

2016

2017

2017 Mount Dora, Florida Tornado • 2017 Clermont, Florida Tornado • 2017 Bradenton, Florida Tornado • 2017 Broken Arrow, Oklahoma Tornado

2018

2018 Seymour, Texas Tornado • 2018 Daulatpur-Saturia, Bangladesh Tornado • 2018 Parkersburg, Iowa Tornado • 2018 Washington, Oklahoma Tornado • 2018 Loyal Valley, Texas Tornado • 2018 Tescott, Kansas Tornado • 2018 Amber, Oklahoma Tornado • 2018 Chickasha, Oklahoma Tornado • 2018 Piedmont-El Reno, Oklahoma Tornado • 2018 Sulphur, Oklahoma Tornado • 2018 North Sulphur, Oklahoma Tornado • 2018 Pennsboro, West Virginia Tornado • 2018 New Albany, Ohio Tornado • 2018 Tulsa, Oklahoma Tornado • 2018 Moore, Oklahoma Tornado • 2018 Phil Campbell-Hackleburg, Alabama Tornado • 2018 Clermont-Groveland-Four Corners, Florida Tornado • 2018 Littleton-Columbine, Colorado Tornado • 2018 Iona-Rigby, Idaho Tornado • 2018 Chapman, Kansas Tornado • 2018 Jarrell, Texas Tornado • 2018 Houston-Pasadena, Texas Tornado • 2018 Cleveland County, Oklahoma Tornado • 2018 Cleveland County-Grady, County Oklahoma Tornado • 2018 Oklahoma City, Oklahoma Tornado • 2018 Anadarko, Oklahoma Tornado • 2018 Joplin-Alba, Missouri Tornado • 2018 Eustace-Canton, Texas Tornado • 2018 Andover, Kansas Tornado • 2018 Olathe, Kansas Tornado • 2018 Gatlinburg, Tennessee Tornado • 2018 Hot Springs, South Dakota Tornado • 2018 Greene County, Ohio Tornado • 2018 Xenia, Ohio Tornado • 2018 Red Rock, Oklahoma Tornado • 2018 Binger, Oklahoma Tornado • 2018 Denton, Texas Tornado • 2018 Millersport, Ohio Tornado • 2018 Foley, Alabama Tornado • 2018 Bennington, Kansas Tornado • 2018 Smithville, Mississippi Tornado • 2018 Glazier, Texas Tornado • 2018 Vilonia, Arkansas Tornado • 2018 Hackleburg, Alabama Tornado • 2018 Ponca City, Oklahoma Tornado • 2018 Freeport, Kansas Tornado • 2018 Guin, Alabama Tornado • 2018 Fort Rice, North Dakota Tornadoes • 2018 Spencer, South Dakota Tornado • 2018 Woodward, Oklahoma Tornado • 2018 Leedey, Oklahoma Tornado • 2018 Olney, Texas Tornado • 2018 Udall, Kansas Tornado • 2018 Blackwell, Oklahoma Tornado • 2018 Kiowa, Oklahoma Tornado • 2018 Big Spring, Texas Tornado • 2018 Rocksprings, Texas Tornado • 2018 Oberlin, Kansas Tornado • 2018 Clyde, Texas Tornado • 2018 Broken Bow, Oklahoma Tornado • 2018 Checotah, Oklahoma Tornado • 2018 Lawton, Oklahoma Tornado • 2018 Quapaw, Oklahoma Tornado • 2018 Antlers, Oklahoma Tornado • 2018 Lake Wilson, Minnesota Tornado • 2018 Chandler, Minnesota Tornado • 2018 Kiro, Kansas Tornado • 2018 Monticello, Indiana Tornado • 2018 El Reno, Oklahoma Tornado • 2018 Eureka, Kansas Tornado • 2018 Pushmataha County, Oklahoma Tornado • 2018 New Cordell, Oklahoma Tornado • 2018 Finley, Oklahoma Tornado • 2018 Oleta, Oklahoma Tornado • 2018 Stanley, Oklahoma Tornado • 2018 Attica, Kansas Tornado • 2018 Union City, Oklahoma Tornado • 2018 Overland Park, Kansas Tornado • 2018 Dover, Oklahoma Tornado • 2018 South Chickasha, Oklahoma Tornado • 2018 Northern Kingfisher, Oklahoma Tornado • 2018 Keller, Texas Tornado • 2018 Reece, Kansas Tornado • 2018 Midwest City, Oklahoma Tornado • 2018 Cuba, Missouri Tornado • 2018 Dimmitt, Texas Tornado • 2018 Água Santa, Brazil Tornado • 2018 Fray Marcos, Uruguay Tornado • 2018 Goldsby, Oklahoma Tornado • 2018 Perryville, Missouri Tornado • 2018 St. Jo, Texas Tornado • 2018 Roff, Oklahoma Tornado • 2018 Tuttle, Oklahoma Tornado • 2018 Birmingham, England Tornado • 2018 Rosario, Argentina Tornado • 2018 Ciríaco, Brazil Tornado • 2018 Lecce, Italy Tornado • 2018 Viersen, Germany Tornado • 2018 Domme, France Tornado • 2018 Emporia, Kansas Tornado • 2018 Tushka, Oklahoma Tornado • 2018 Broken Arrow, Oklahoma Tornado • 2018 Keyes, Oklahoma Tornado • 2018 Sturgis, Oklahoma Tornado • 2018 Higgins, Texas Tornado • 2018 Campo, Colorado Tornado • 2018 Winthrop, Arkansas Tornado • 2018 Troy, Oregon Tornado • 2018 Pilger, Nebraska Tornado • 2018 De Smet, South Dakota Tornado • 2018 Attica, Indiana Tornado • 2018 Dayton, Indiana Tornado • 2018 Kingfisher, Oklahoma Tornado • 2018 Delaware, Ohio Tornado • 2018 Covington, Virginia Tornado • 2018 Yonkers, New York Tornado • 2018 Dorset, Vermont Tornado • 2018 Jacksonville, Florida Tornado • 2018 Haines City, Florida Tornado • 2018 Davenport, Iowa Tornado • 2018 Caddo County-Grady County, Oklahoma Tornado • 2018 Caddo County, Oklahoma Tornado • 2018 Piedmont, Oklahoma Tornado • 2018 Okarche, Oklahoma Tornado • 2018 Guthrie, Oklahoma Tornado • 2018 Lincoln County, Oklahoma Tornado • 2018 Prague, Oklahoma Tornado • 2018 Newcastle, Oklahoma Tornado • 2018 Elie, Manitoba Tornado • 2018 Fairland, Oklahoma Tornado • 2018 Chelsea, Oklahoma Tornado • 2018 Justice, Oklahoma Tornado • 2018 Dotyville, Oklahoma Tornado • 2018 Glenpool, Oklahoma Tornado • 2018 Bixby, Oklahoma Tornado • 2018 Tulsa County, Oklahoma Tornado • 2018 Binger-Stillwater, Oklahoma Tornado • 2018 N'Djamena, Chad Tornado • 2018 N'Djamena-Gaoui, Chad Tornado • 2018 Dhaka, Bangladesh Tornado • 2018 New Delhi, India Tornado • 2018 Mumbai, India Tornado • 2018 Yauco, Puerto Rico Tornado • 2018 Mulhall, Oklahoma Tornado • 2018 Miami, Oklahoma Tornado • 2018 Griggs, Oklahoma Tornado • 2018 Grove, Oklahoma Tornado • 2018 Edmonson, Texas Tornado • 2018 Panhandle, Texas Tornado • 2018 Wilco-Dimmitt, Texas Tornado • 2018 Turkey, Texas Tornado • 2018 Slaton-Guthrie, Texas Tornado • 2018 Chico-Bowie, Texas Tornado

2019

2019 Coleridge, Nebraska Tornado • 2019 El Dorado, Kansas Tornado • 2019 Hornet, Missouri Tornado • 2019 Detroit, Michigan Tornado • 2019 Arnett, Oklahoma-Higgins-Canadian-Lipscomb, Texas Tornado • 2019 Randolph, Kansas Tornado • 2019 Prescott, Arkansas tornado • 2019 Baxter County, Arkansas Tornado • 2019 Cotter, Arkansas Tornado • 2019 Clinton, Arkansas Tornado • 2019 Ballwin, Missouri Tornado • 2019 Chesterfield, Missouri Tornado • 2019 Manchester, Missouri Tornado • 2019 St. Louis County, Missouri Tornado • 2019 Andover, Kansas Tornado • 2019 Vanora, Kansas Tornado • 2019 Clarksville, Texas Tornado • 2019 North Andover, Kansas Tornado • 2019 Bentley, Kansas Tornado • 2019 Coleman, Kansas Tornado • 2019 Paxton, Kansas Tornado • 2019 Eureka, Kansas Tornado • 2019 Butler County, Kansas Tornado • 2019 Sedgwick County, Kansas Tornado • 2019 Goddard, Kansas Tornado • 2019 Sedgwick, Kansas Tornado • 2019 Silver Creek, Mississippi Tornado • 2019 Blakely, Alabama Tornado • 2019 Key West, Florida Tornado • 2019 Yeuyang, China Tornado • 2019 Golden City, Missouri Tornado • 2019 Carl Junction, Missouri Tornado • 2019 Harper, Kansas Tornado • 2019 Attica-Harper, Kansas Tornado • 2019 Sand Springs, Oklahoma Tornado • 2019 Spiro, Oklahoma Tornado • 2019 Vinita, Oklahoma Tornado • 2019 Salt Lake City, Utah Tornado • 2019 Snyder, Oklahoma Tornado • 2019 Sterling, Kansas Tornado • 2019 Vian, Oklahoma Tornado • 2019 Hesston, Kansas Tornado • 2019 Lenexa, Kansas Tornado • 2019 Sierra Vista, Arizona Tornado • 2019 Stillwater, Oklahoma Tornado • 2019 Pinson, Tennessee Tornado • 2019 Girvin, Texas Tornado • 2019 Mulhall, Oklahoma Tornado • 2019 Parshall, North Dakota Tornado • 2019 Bridge Creek-Moore, Oklahoma Tornado • 2019 Washington, Illinois Tornado • 2019 Rochelle, Illinois Tornado • 2019 West Vicksburg, Mississippi Tornado • 2019 Vicksburg, Mississippi Tornado • 2019 Stone Town, Zanzibar, Tanzania Tornado • 2019 Mogadishu, Somalia Tornado

2020

2020 Palisade, Nebraska Tornado • 2020 Wallace, Kansas Tornado • 2020 Garden City, Kansas Tornado • 2020 Ensign, Kansas Tornado • 2020 Coalgate, Oklahoma Tornado • 2020 Reform, Alabama Tornado • 2020 Burkville-Montgomery, Alabama Tornado • 2020 Union Springs, Alabama Tornado • 2020 Gadsden, Alabama Tornado • 2020 Piedmont, Alabama Tornado • 2020 Vincent, Alabama Tornado • 2020 Delta, Alabama Tornado • 2020 Cox, Florida Tornado • 2020 White, Georgia Tornado • 2020 Plains, Georgia Tornado • 2020 Dexter, Georgia Tornado • 2020 Forest Acres, South Carolina Tornado • 2020 Kannapolis North Carolina Tornado • 2020 Statesville, North Carolina Tornado • 2020 Fowlerton, Indiana Tornado • 2020 Speedway, Indiana Tornado • 2020 York, Nebraska Tornado • 2020 Tryon, Nebraska Tornado • 2020 Loup City, Nebraska Tornado • 2020 Ralston, Nebraska Tornado • 2020 Sherman, Texas Tornado • 2020 Laramie, Wyoming Tornado • 2020 Rocky Ford, Colorado Tornado • 2020 Centennial, Colorado Tornado • 2020 Castle Rock, Colorado Tornado • 2020 Wheat Ridge, Colorado Tornado • 2020 Aspen, Colorado Tornado • 2020 Greeley, Colorado Tornado • 2020 Boulder, Colorado Tornado • 2020 Windsor, Colorado Tornado • 2020 Adams County, Colorado Tornado • 2020 Elbert County, Colorado Tornado • 2020 Lakewood, Colorado Tornado • 2020 Golden, Colorado Tornado • 2020 Denver, Colorado Tornado • 2020 Littleton, Colorado Tornado • 2020 Colorado Springs, Colorado Tornado • 2020 Pueblo, Colorado Tornado • 2020 Fort Collins, Colorado Tornado • 2020 Loveland, Colorado Tornado • 2020 Arapahoe County, Colorado Tornado • 2020 Jefferson County, Colorado Tornado • 2020 Lake Providence, Louisiana Tornado • 2020 Ward, Alabama Tornado • 2020 Warsaw, Alabama Tornado • 2020 Oneonta, Alabama Tornado • 2020 Eutaw, Alabama Tornado • 2020 Lexington, Mississippi Tornado • 2020 Port Gibson, Mississippi Tornado • 2020 Fayette, Mississippi Tornado • 2020 Bonifay, Florida Tornado • 2020 Stone Mountain, Georgia Tornado • 2020 Decatur, Georgia Tornado • 2020 Sparta, Georgia Tornado • 2020 Manchester, Kentucky Tornado • 2020 Paris, Arkansas Tornado • 2020 Allendale, South Carolina Tornado • 2020 Chapel Hill, North Carolina Tornado • 2020 New Rochelle, New York Tornado • 2020 Amherst, Massachusetts Tornado • 2020 Brookline, Massachusetts Tornado • 2020 Worcester, Massachusetts Tornado • 2020 Boston, Massachusetts Tornado • 2020 Chicago, Illinois Tornado • 2020 Auburn-Enterprise-Dothan, Alabama Tornado • 2020 Scottsboro, Alabama Tornado • 2020 Phil Campbell, Alabama Tornado • 2020 Double Springs, Alabama Tornado • 2020 Macon County, Alabama Tornado • 2020 Oak Ridge, Tennessee Tornado • 2020 Athens, Mississippi Tornado • 2020 Ider, Alabama Tornado • 2020 Vernon, Alabama Tornado • 2020 Philadelphia, Mississippi Tornado • 2020 Steens, Mississippi Tornado • 2020 Muncie, Indiana Tornado • 2020 Pickensville-Sumiton, Alabama Tornado • 2020 McAlester, Oklahoma Tornado • 2020 Blair, Oklahoma Tornado • 2020 Tishomingo, Oklahoma Tornado • 2020 Kingfisher County, Oklahoma Tornado • 2020 Plainfield, Illinois Tornado • 2020 Murphysboro, Illinois Tornado • 2020 Capitol, Montana Tornado • 2020 Washington D.C. Tornado • 2020 Oshtemo, Michigan tornado • 2020 Richmond, Virginia Tornado • 2020 Charlottesville, Virginia Tornado • 2020 Petersburg, Virginia Tornado • 2020 Pittsburgh, Pennsylvania Tornado • 2020 Erie, Pennsylvania Tornado • 2020 Raleigh, North Carolina Tornado • 2020 Durham, North Carolina Tornado • 2020 Knoxville, Tennessee Tornado • 2020 Jackson, Tennessee Tornado • 2020 Cookeville, Tennessee Tornado • 2020 Nashville, Tennessee Tornado • 2020 Memphis, Tennessee Tornado • 2020 Springfield, Missouri Tornado • 2020 Kansas City, Missouri Tornado • 2020 Leavenworth, Kansas Tornado • 2020 Lincoln, Nebraska Tornado • 2020 Lexington, Kentucky Tornado • 2020 St. Louis, Missouri-East St. Louis, Illinois Tornado • 2020 Des Moines, Iowa Tornado • 2020 Dubuque, Iowa Tornado • 2020 Minneapolis, Minnesota Tornado • 2020 St. Paul, Minnesota Tornado • 2020 Kenosha, Wisconsin Tornado • 2020 Milwaukee, Wisconsin Tornado • 2020 Madison, Wisconsin Tornado • 2020 Naperville, Illinois Tornado • 2020 Indianapolis, Indiana Tornado • 2020 Gary, Indiana Tornado • 2020 Lansing, Michigan Tornado • 2020 Dearborn, Michigan Tornado • 2020 Detroit, Michigan Tornado • 2020 Cincinnati, Ohio Tornado • 2020 Columbus, Ohio Tornado • 2020 Akron, Ohio Tornado • 2020 Cleveland, Ohio Tornado • 2020 Bismarck, North Dakota Tornado • 2020 Pierre, South Dakota Tornado • 2020 Rapid City, South Dakota Tornado • 2020 Sioux Falls, South Dakota Tornado • 2020 Pine Ridge, South Dakota Tornado • 2020 Hyden, Kentucky Tornado • 2020 Brandenburg, Kentucky Tornado • 2020 Louisville, Kentucky Tornado • 2020 Covington, Kentucky Tornado • 2020 Steubenville, Ohio Tornado • 2020 Niles, Ohio Tornado • 2020 Lorain, Ohio Tornado • 2020 Dayton, Ohio Tornado • 2020 Midway, Indiana Tornado • 2020 Kalamazoo, Michigan Tornado • 2020 South Bend, Indiana Tornado • 2020 Dunlap, Indiana Tornado • 2020 Lebanon, Indiana Tornado • 2020 Griffin, Indiana Tornado • 2020 Depauw, Indiana Tornado • 2020 Gorham, Illinois Tornado • 2020 Palestine, Illinois Tornado • 2020 Alton, Illinois Tornado • 2020 Flint, Michigan Tornado • 2020 Joliet, Illinois Tornado • 2020 Jordan, Iowa Tornado • 2020 Austin, Minnesota Tornado • 2020 Lake Wilson, Minnesota Tornado • 2020 Renville County, Minnesota Tornado • 2020 Fargo, North Dakota Tornado • 2020 Hallam, Nebraska Tornado • 2020 Joplin, Missouri Tornado • 2020 Denton-Gainesville-Thackerville, Texas-Dibble-Blanchard-Mustang-Yukon-Kingfisher, Oklahoma Tornado • 2020 Snyder, Oklahoma Tornado • 2020 Solomon, Kansas Tornado • 2020 Grand Island, Nebraska Tornado • 2020 Pittsburg, Kansas Tornado • 2020 Wichita, Kansas Tornado • 2020 Casper, Wyoming Tornado • 2020 Cheyenne, Wyoming Tornado • 2020 Gillette, Wyoming Tornado • 2020 Garland, Texas Tornado • 2020 Billings, Montana Tornado • 2020 Missoula, Montana Tornado • 2020 Great Falls, Montana Tornado • 2020 Bozeman, Montana Tornado • 2020 Hinton, Oklahoma Tornado • 2020 Blanchard, Oklahoma Tornado • 2020 Reading, Kansas Tornado • 2020 Goldsby, Oklahoma Tornado • 2020 Mangum, Oklahoma Tornado • 2020 Perry-Mulhall, Oklahoma Tornado • 2020 Abilene, Kansas Tornado • 2020 Greensburg, Kansas Tornado • 2020 Golden City, Missouri Tornado • 2020 La Grange, Missouri Tornado • 2020 Oologah, Oklahoma Tornado • 2020 Hugo, Oklahoma Tornado • 2020 Rozel, Kansas Tornado • 2020 Valley Mills, Texas Tornado • 2020 Pampa, Texas Tornado • 2020 Arapho-Custer City-Thomas, Oklahoma Tornado • 2020 Eagle City, Oklahoma Tornado • 2020 Mountain View, Oklahoma Tornado • 2020 Tulsa, Oklahoma Tornado • 2020 Allison, Texas Tornado • 2020 Bridge Creek, Oklahoma Tornado • 2020 Chickasha, Oklahoma Tornado • 2020 Butler, Oklahoma Tornado • 2020 Davis, Oklahoma Tornado • 2020 Amber, Oklahoma Tornado • 2020 Wichita Falls, Texas Tornado • 2020 Dodge City, Kansas Tornado • 2020 Eustace, Texas Tornado • 2020 Sapulpa, Oklahoma Tornado • 2020 Granbury, Texas Tornado • 2020 Liberal, Kansas Tornado • 2020 Silsbee, Texas Tornado • 2020 Bradley, Oklahoma Tornado • 2020 Omaha, Nebraska Tornado • 2020 Elmer, Oklahoma Tornado • 2020 Camanche, Iowa Tornado • 2020 Jefferson City, Missouri Tornado • 2020 McPherson, Kansas Tornado • 2020 Shawnee, Oklahoma Tornado • 2020 Loyal, Oklahoma Tornado • 2020 Katie, Oklahoma Tornado

2021

2021 Anadarko, Oklahoma Tornado • 2021 Danville, Ohio Tornado • 2021 Piedmont - Guthrie, Oklahoma Tornado • 2021 Gladstone, New Mexico Tornado • 2021 Piedmont, Oklahoma tornado • 2021 Ashley-Walcott, North Dakota Tornado • 2021 Paris, Texas Tornado • 2021 Abilene, Texas Tornado • 2021 Waurika, Oklahoma Tornado

2022

2022 El Dorado, Kansas Tornado • 2022 Skidmore, Missouri Tornado • 2022 Gretna, Florida Tornado • 2022 Dallas, Texas Tornado • 2022 Leigh, Nebraska Tornado • 2022 Parbatipur, Bangladesh Tornado

2023

2023 Dallas, Texas Tornado • 2023 Memphis, Tennessee Tornado • 2023 Jefferson County, Arkansas Tornado • 2023 Pulaski County, Arkansas Tornado • 2023 Arkansas County, Arkansas Tornado • 2023 Desha County, Arkansas Tornado2023 Phillips County, Arkansas Tornado • 2023 Coahoma County, Mississippi Tornado • 2023 Quitman County, Mississippi Tornado • 2023 Pontotoc County, Mississippi Tornado • 2023 Union County, Mississippi Tornado • 2023 Noxubee County, Mississippi • 2020 Macon, Mississippi Tornado • 2023 Delhi, Louisiana Tornado • 2023 LaSalle Parish, Louisiana Tornado • 2023 Madison Parish, Louisiana Tornado • 2023 Amite County, Mississippi Tornado • 2023 Pike County, Mississippi Tornado • 2023 Liberty, Mississippi Tornado • 2023 Gloster, Mississippi Tornado • 2023 Pearl River County, Mississippi Tornado • 2023 Clay County, Mississippi Tornado • 2023 Warren County, Mississippi Tornado • 2023 Madison County, Mississippi Tornado • 2023 Rankin County, Mississippi Tornado • 2023 Leflore County, Mississippi Tornado • 2023 Sunflower County, Mississippi Tornado • 2023 Grenada County, Mississippi Tornado • 2023 Neshoba County, Mississippi Tornado • 2023 Lauderdale County, Mississippi Tornado • 2023 Marion County, Alabama Tornado • 2023 Winston County, Alabama Tornado • 2023 Itawamba County, Mississippi Tornado • 2023 Tishomingo County, Mississippi Tornado • 2023 Rockdale County, Georgia Tornado • 2023 Walton County, Georgia Tornado • 2023 Habersham County, Georgia Tornado • 2023 Banks County, Georgia Tornado • 2023 Ackworth, Georgia Tornado • 2023 Cumming, Georgia Tornado • 2023 Edgefield, South Carolina Tornado • 2023 Newton County, Georgia Tornado • 2023 Taliaferro County, Georgia Tornado • 2023 Hancock County, Georgia Tornado • 2023 Glasscock County, Georgia Tornado • 2023 Brantley County, Georgia Tornado • 2023 Pierce County, Georgia Tornado • 2023 Bacon County, Georgia Tornado • 2023 Jeff Davis County, Georgia Tornado • 2023 Long County, Georgia Tornado • 2023 Liberty County, Georgia Tornado • 2023 Orangeburg County, South Carolina Tornado • 2023 Chandler, Minnesota Tornado

2024

2024 Liberal, Kansas tornado • 2024 Canadian County, Oklahoma tornado • 2024 Slater, Missouri tornado • 2024 Blanchard-Newcastle-Moore, Oklahoma tornado • 2024 Helena-Lamont, Oklahoma tornado • 2024 Woodward, Oklahoma tornado • 2024 Attica-Harper, Kansas tornado

2025 Harrisburg-Reading-Philadelphia, Pennsylvania Tornado • 2025 Waurika-Addington, Oklahoma Tornado

2026

2027

2028

2028 Mulhall, Oklahoma Tornado • 2028 Wynnewood, Oklahoma Tornado • 2028 Wray, Colorado tornado • 2028 Lone Grove, Oklahoma Tornado • 2028 Wichita-Park City, Kansas tornado

2031

2034

2034 Florissant, Missouri tornado • 2034 Taylorsville, Kentucky tornado • 2034 Watseka, Illinois tornado

2035

2037

2037 Winfield, Alabama tornado • 2037 Thaxton, Mississippi tornado • 2037 Mobile, Alabama tornado • 2037 Huntsville, Alabama tornado • 2037 Elgin, Oklahoma Tornado

2038

2038 Abbeville-New Iberia, Louisiana tornado • 2038 Kansas City-Dodge City-Topeka, Kansas tornado

2041

2265