The Christmas 2015 Midwest Tornado Outbreak was a Significant Tornado Outbreak that lasted from December 24th to December 25th, 2015.
And was considered one of the Worst Tornado outbreaks in December.
Christmas 2015 Midwest Tornado Outbreak

One of Four EF4s that took place during the outbreak, this one was near Louisville, KY
Type:
Unknown
Active:
December 24th-25th, 2015
Duration of tornado outbreak1:
1 Day, 9 hours and 45 minutes
Maximum rated tornado2:
EF5 tornado
Highest winds
Unknown
Tornadoes confirmed:
51
Damage:
$2 billion (2015 USD)
Injuries:
Unknown
Fatalities:
318
Areas affected:
Kentucky

1Time from first tornado to last tornado
2Most severe tornado damage; see wikipedia:Enhanced Fujita scale
The Event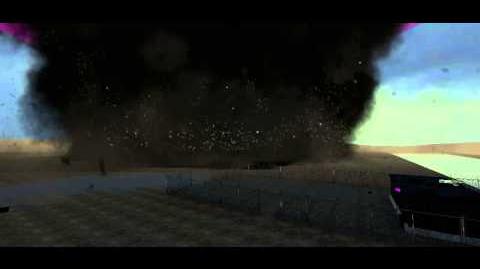 Tornado count
Confirmed
Total
Confirmed
EF0
Confirmed
EF1
Confirmed
EF2
Confirmed
EF3
Confirmed
EF4
Confirmed
EF5
51
11
9
14
10
5
2
Tornadoes
List of confirmed tornadoes - December 25th, 2015

EF#

Location

Time (EST)

Path length

Comments/Damage

Kentucky
EF4
SSE of Louisville
3:25 PM
24 Miles
10 Deaths, 35 Injuries - A Large Tornado came close to Louisville, causing major damages to homes and Businesses.
EF1
Louisville
3:32 PM
2.3 miles
0 deaths, 1 injury - A skinny cone tornado co-existed with the Louisville EF4.
Oklahoma
EF2
Bartlesville
3:31 PM
10.5 Miles
1 Fatality, 3 injuries - Skinny cone tornado affected parts of Bartlesville.
Community content is available under
CC-BY-SA
unless otherwise noted.