The February 13th 2022 Hattiesburg, Mississippi Tornado was a deadly tornado.
Tornado
The tornado touched down at 3:30 A.M as a EF0 in Eastern Lamar county near Oak Grove and Headed straight towards Hattiesburg reaching EF4 strength in Oak Grove leveling many homes then it entered western Hattiesburg at high end EF4 strength and swept away a poorly anchored homes it then hit William Carny University at EF5 strength destroying the entire campus 25 people were killed and the Christ sculpture was destroyed it moved to the same neighborhood that was hit by the 2017 tornado sweeping away numerous anchor bolted homes the tornado turned east and still did some amazing ground souring 4 feet deep to be exact it weakened and dissipated. The tornado caused 2 billion dollars in damage and killed 51 people.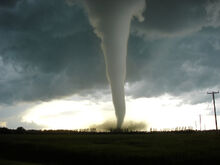 Community content is available under
CC-BY-SA
unless otherwise noted.