Jurassic World: Dominion Dominates Fandom Wikis - The Loop
Play Sound
On the morning of October 28th, 2022, a rare late season moderate risk of severe weather was issued for large portions of the Carolinas, including a 15% hatched risk for tornadoes. At 2:13 pm, a tornado warned supercell thunderstorm developed 12 miles southeast of Raleigh.
The tornado touched down at 2:34 pm in Auburn, or 12.3 miles southeast of downtown Raleigh. It then snapped numerous trees at EF1 intensity and severely damaged the roofs of many homes outside of Raleigh. As it entered Raleigh, it intensified to an EF2. It damaged or destroyed many homes in the Anderson Pointe subdivision in southeast Raleigh. The national weather service issued a tornado emergency for all of Raleigh as the tornado intensified to an EF3 tornado, took aim at downtown, and quickly became a mile wide. It entered the edge of town and became violent. It partially leveled a home on Rock Quarry Road at high-end EF3 intensity. The State Employees' Credit Union was completely obliterated at EF4 intensity. AS it exited Raleigh, it dramatically weakened to an EF2, and dissapated
Aftermath
Although this tornado was relatively short lived, it was the strongest tornado that the city of Raleigh had ever seen. If it had stayed on the ground longer and kept intensifying like it did for the majority of its life, it is likely that it would have been a deadly EF5.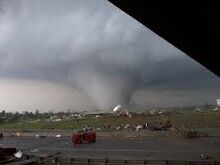 My notable tornadoes are.................................... 2020 Kearney, Nebraska tornado and the
2025 Troy, Kansas-Falls City, Nebraska tornado and the Aurora, Illinois-Beloit, Wisconsin tornado of March 1, 2024