The Tornado Outbreak Sequence of February 4-10, 2020 was a tornado outbreak sequence in the Southern and Southeastern United States that lasted from February 4th, 2020 to February 10th, 2020.
It impacted 12 states, including Texas, Oklahoma, Louisiana, Arkansas, Tennessee, Florida, Georgia, Alabama, Mississippi, South Carolina, Virginia, and North Carolina. It was one of the worst tornado outbreaks in February. The Carolinas were especially hit hard in the outbreak.
Tornado Outbreak Sequence of February 4-10, 2020

Type:
Tornado outbreak

Extratropical cyclone

Active:
February 4th-10th, 2020
Duration of tornado outbreak1:
6 days, 4 hours, 21 minutes
Maximum rated tornado2:
EF5 tornado
Highest winds
200 mph (320 km/h)
Tornadoes confirmed:
247
Damage:
$2 billion (2020 USD)
Injuries:
998
Fatalities:
423
Areas affected:
Southeastern United States (especially The Carolinas), Southern United States.

1Time from first tornado to last tornado
2Most severe tornado damage; see wikipedia:Enhanced Fujita scale
It included the 1st tornado rated EF-5 in NC, which crossed into SC. Most of the tornadoes were rated EF0-EF2. There were 2 EF5's , 6 EF4's , 23 EF3's, 43 EF2's, 120 EF1's, 55 EF0's. There was an EF-5 that was 1.5 miles wide.
Meteorological synopsis
In the late evening of February 3, an intense low pressure system developed over the Southwestern US and quickly intensified with a warm humid air mass, along with a cold front. The system was moving east-northeast at 35-40 mph. By the nighttime hours of February 3, it was located over Kansas. The temperature gradient was sharp with this system.
By the morning of February 4, a strong 90-115 knot , mid level jet moved over the Southern Plains into Tennessee. Temperatures ranged from the low 70's into the mid 80's. CAPE values were between 3000 J/kg and 4000 J/kg. Helicity levels ranged from 500 to 700 m2/s2, setting the stage for a significant tornado threat.
The Storm Prediction Center issued a moderate risk of severe weather for February 4 in the Day 3 Convective Outlook on February 2. By the morning of February 3, the moderate risk area was extended into far western NC, Northern GA. High Risk was issued for much of Alabama, Mississippi. There was a hatched risk for 45% tornadoes issued for Central AL, Eastern MS. By February 4 at 0600 UTC the High Risk was extended into far western NC, while the moderate risk was extended into Western and Central NC.
February 4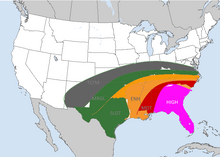 At around 9:00 am EST, the SPC issued a tornado watch for Western NC, Northern GA, Eastern TN, and Northwestern SC until 4 pm EST. At 10:15 am EST, the first tornado touched down in Eastern TN near Knoxville, TN and tracked 30 miles to the northeast, it was later rated an EF-2. The tornadoes continued to become more widespread. About 2 million customers were without power in NC, SC, and GA. Downed trees occurred in most parts of NC and SC with wind gusts of up to 100 miles per hour (160 kilometers per hour).